In the world of thread craft, particularly knitting and crochet, there are two main types of of materials used: Yarns and Threads. While there are many brands of yarns on the market, there are relatively few brands of crochet thread.
Crochet thread is not sewing thread. Crochet thread is more like a fine yarn used for making delicate items, using crochet hooks or, to a lesser extent, knitting needles. For this article we will focus on crochet only. We will save knitting for another day.
As you may know, Lyn's Crafts specializes crochet threads.  No blog about crochet threads would be complete without a discussion about the top brands of crochet threads available on the market today.
For this article we focused on crochet threads that are generally available; either carried by us, as in the case of Monaco Crochet thread, or are available via large market places such as amazon.
So what are the most popular brands of crochet thread on the market today?
Aunt Lydia's
This Should come as no surprise. Aunt Lydia's is the most popular brand of crochet thread on the market today.
Distributed by Coats and Clark under the Red Heart Brand, Aunt Lydia's is made from 100% mercerized cotton and is available in 4 sizes.
One of the chief advantages of Aunt Lydia's is the yardage. Averaging over 300 yards per ball, it is one of the longest, and thus, most economical brands of crochet thread available today.
Sizes: 4 types of Size 10, Size 3 Fashion, Size 20 Fine, Size 30 Extra Fine
It comes in balls that are 400 yd/336m White & Ecru, 350 yd/320m Solids, 300 yd/274m Shaded balls.
Size 10 is the most popular size for Aunt Lydia's followed by Size 3. There are also some metallic shades as well.
---
Lizbeth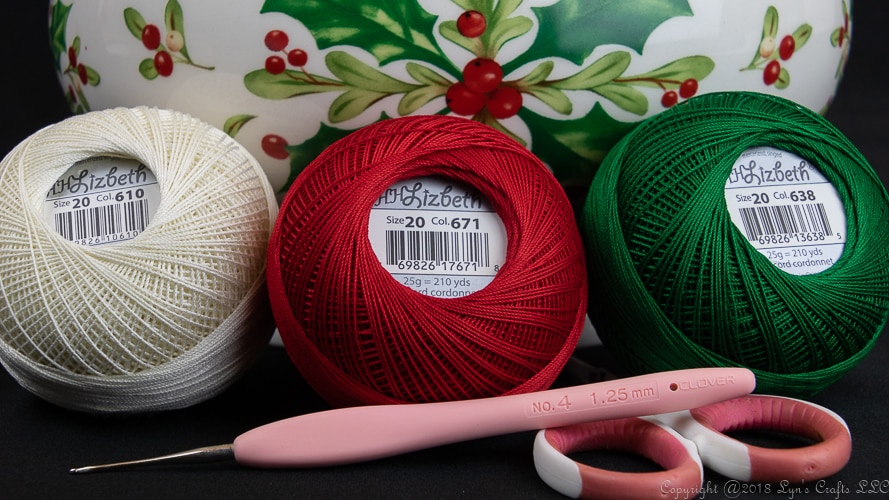 Popular for tatting but also used for crochet, Lizbeth brand is marketed by Handy Hands Tatting Company. Made from 100% mercerized cotton Lizbeth threads are available in 8 sizes and are machine washable.
While the colors are excellent the balls are much smaller than say Aunt Lydia's. This makes them more suitable for smaller, more delicate projects that don't require a lot of thread.
Sizes: Size 3, Size 10, Size 20, Size 30, Size 40, Size 80
For more information about Tatting check out our post: What is Tatting and how is it used.
---
DMC 
Another popular brand is DMC. A superior quality crochet thread made from combed cotton. DMC Cebelia is 100% colorfast and fade-resistant.
During the manufacturing process, the thread is combed, singed by flame and then double mercerized. It is this double mercerizing that gives it its brilliance and strength. It is wound on a small core resulting in a compact ball with high yardage. 
100% cotton , -3 ply
Size 10: 282yd
Size 20: 405yd
Size 30: 563yd
Dyelotted
-Machine wash and lay flat to dry.
---
Thread Art
Cotton crochet thread for tablecloths, bedspreads, and well as home and fashion accessories. 100% mercerized 3 ply cotton. 50 gram balls. Available in 2 sizes: Size 3 and Size 10.
Available primarily from Amazon and Walmart, ThreadArt is a heavily discounted, locally available crochet thread. Similar in size to Monaco or Cannon Crochet thread.
50 gram balls, 100% mercerized cotton, 3ply, Size 10, 175 yd. Size 7 hook recommended
---
Cannon
Produced by the Manila Bay Thread Corporation, Cannon crochet thread is manufactured in the Philippines. Like Monaco, the Manila Bay Thread Corporation (MTBC) has a heavy emphasis on commercial/industrial products. They have a small line of consumer products including the Cannon Line of crochet thread.
Cannon is very similar to Monaco crochet thread. Both are size 8, and at 40 grams and 175 meters (191 yarns), the weight and yardage are about the same.
Similarly cannon is only sold in the Philippines. While you can order it online be very careful. We tried going to the Manila Bay Website only to find it was offline. Not a good omen, and one of main reasons we prefer to sell Monaco.
GOLO
Golo, another Asian thread brand, markets it's threads by skill level for a particular size. For example, they have a size 6 thread that they state is for beginners, while they say that size 10 is a "hi-end" thread for experienced uesrs.
It is available in 5 sizes, ranging from size 1 to size 10, with yardage varying by size.
Golo crochet cotton is made of 100% long-Staple Cotton, which is Soft, Smooth Silky, Stronger ,More lustrous finish & Eco-friendly, does not come loose easily and does not fluff or kink . A ball of thread comes in at 1.4oz/40g and the length is about 250 yards. It is a bit shorter than Aunt Lydia's, Artiste or Thread Art, but is longer than Lizbeth.
That said, being a bit less mainstream, means that Golo is a somewhat more expensive and tends to not be as heavily discounted as the more popular brands.
It is mainly available via Amazon.
Artiste
Artiste is a line of crochet thread created and sold by Hobby Lobby. It comes in a wide range of colors and is great for the finest crochet or knitting projects.
Being that it is marketed and sold by Hobby Lobby you can count on this thread to be heavily discounted with prices as low as $2.00 per ball. Even so that quality is pretty good. I have used these for many projects and find them pleasant to work with.
Sizes: 10 – 350 Yards
Monaco
 Monaco Crochet Thread is hands down, our best-selling crochet thread. It is manufactured and sold mainly in the Philippines. Oddly, the Monaco company seems perfectly content to only sell theirs threads in Asia. There are no wholesale distributors here in the US. That make Lyn's Crafts one of the few places where you can buy Monaco Crochet Thread and have it shipped to you from the US.
There are some people who offer it on ebay, but I think we are only company with the full catalog of threads online.
If it that hard to get then how do you get it? In a word, connections. I am from the Philippines and have family that I trust to make the purchases and ship them to us. Importing from overseas is risky and so I don't recommend that you try it yourself unless you have someone that you absolutely trust with your money.
Monaco thread is very high quality, with vibrant colors. It comes in size 8 only, is 50 grams, 174 meters (191 yards) per ball.
Omega
Imported from Mexico, Omega is 100% Mercerized cotton crochet thread available in sizes 10 thru 60. Though not as popular as many of the other brands listed here, it is a good quality crochet thread that yields great results.
We have the size 30 in stock and can say from both personal experience and customer feedback, that the quality is very good.
Omega size 30 comes in 1.06 oz balls, approximately 341 yards long.
Bernat – Handicrafter
Unlike all of the other crochet threads listed in this article, Bernat Handicrafter is not 100% mercerized cotton. Bernat is 100% acrylic. While the marketing literature states that it is perfect for all crochet projects, I prefer cotton for my projects. I find that the acrylic threads slip way more than cotton threads.
That said, Bernat definitely has a strong following. It is made by Spinrite, a Canadian company with a long history in the textile industry. Spinrite's other brands include Caron, Lily Sugar N' Cream and Patons.
Conclusion
As previously stated, there are relatively few brands of crochet thread. Most are imported, and while some brands are readily available in the US, many others are only available via imports like Lyn's Crafts.
Thread quality is mostly good, yielding more to individual preference than to manufacturing quality.
What about other brands that I didn't cover. I know there are some but the ones listed here represent most of the more popular items.
Do you have a favorite brand of crochet thread not list here? Let us know in the comments below.
In the meantime, thanks for taking the time to read our blog.
Thanks, Lyn