The Alize company is a manufacture of yarns and threads based in Turkey. They manufacture and distribute a wide variety of yarns and threads, with 102 distinct products in their brand line. They cover almost every type of yarn and thread available on the market today.
Even so, they are not well know in the US. Typically, you fine Alize yarns and threads on eBay, Etsy or Amazon stores. And of course they are available via Ice Yarns.
A while ago I decided to import a few select brands from Alize to carry in our store and since we specialize in crochet thread, we started with Alize Miss. So in this post I will review our Alize Miss crochet thread.
Review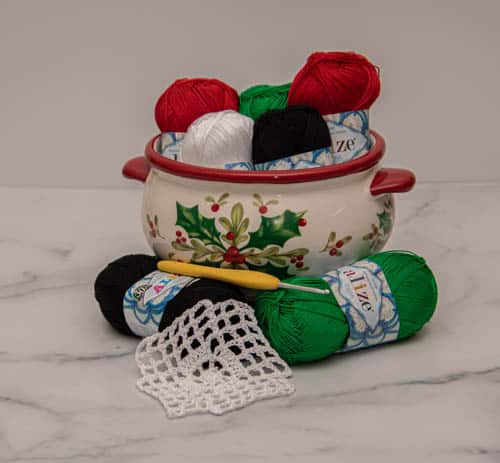 Alize Miss is made from 100% Mercerized cotton and is manufactured in Turkey.
Alize Miss crochet thread is a high quality mercerized crochet thread. Unlike many of the other brands of threads that we carry, Alize Miss is not widely distributed. Alize Miss is usually found online on Etsy, ebay or Amazon. Lyn's Crafts is one of the few US companies to carry a limited supply of Miss Crochet Thread
They are machine washable in warm water, no bleach, and block well.
For the Miss line color selection is limited to 30 shades. That means less choices then even Aunt Lydia's 52 shades for Size 10 but more then their 16 shades in size 3.
The only real downside to Alize Miss threads is the yardage. Designed primarily for tatting, which creates small, intricate designs, the balls are relatively small at 50g, 280 m (306 yards).
Conclusion
As with most modern crochet threads, Alize Miss is a high quality, 100% mercerized cotton thread that works well for most crochet projects. It is easy to work with, color fast, holds its shapes well.
The main downside is the limited availability of Alize in the US. If you plan to use Alize Miss for one of your projects it is best to get a sufficient quantity up front so that you don't face long delays in acquiring additional threads.